SI-65FA-L is an interface converter to connect equipments such as equipment for factory automation or analyzers which have RS-422/485 communication ports to LAN.
The built-in Lantronix Xport® on the LAN interface converts RS-422/RS-485 data into LAN protocol (TCP/IP and transfers the LAN data by controlling RS-485 driver automatically. It offers high reliability by insulating between LAN and RS-422/485 interfaces by the photo-coupler. It works without AC adapter by built-in wide AC input. It has the robust metal body and can be used under the environment of –20 degrees Celsius. Therefore, you can use it for factory automation without worry. SI-65FA-L is the wall-hanging model and can be hung on the wall by screwing from the upper side.
Features
[ Accessories ]
Utility CD-ROM : 1
Instruction Manual : 1
Warranty : 1
Can be hung on the wall by screwing from upper side.
Insulation by photo coupler
Supports multi protocols such as TCP/IP, UDP/IP, ARP, etc.
Built-in wide AC input (between AC 85V and 264V)
Connects 10Base-T/100Base-TX by auto-detection.
Automatic RS-485 communication control in which the flow control of XPort® can be used.
Up to 128 units can be connected by multi-drop system.
Can be used in the environments between -20 and 60 degrees Celsius and adaptive to cold district.
Environment-friendly design by using lead-free solder, without hexavalent chromium screw.
Block Chart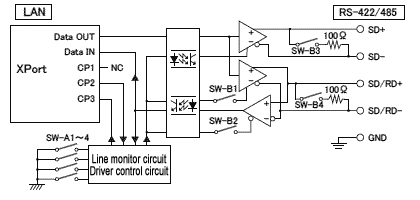 Example of Connection
Fitting for Wall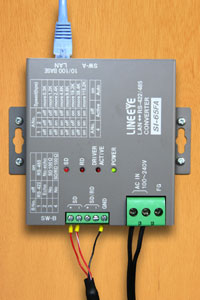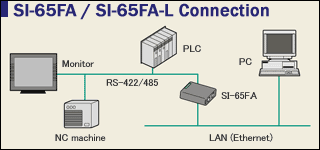 Installation on the wall
SI-65FA-L can be hung on the wall by screwing from upper side.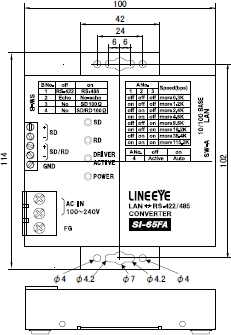 A Useful Tool for Multiple Operation
<Configuration tool (SILANIOinit)>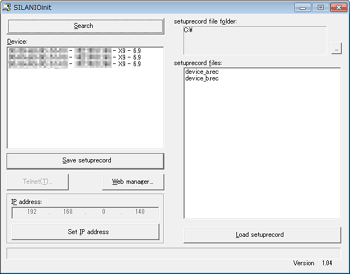 "SILANIOinit" is a configuration tool for LINEEYE products embedded WiPort-NR. It is useful and saves time to rewrite the WiPort-NR configuration file (Setup Record) .
[Functions]
Searches the device on the Network. Displays the MAC address.
Reads and saves the configuration (set-up record) of converter.
Writes to the set-up record of selected converter.
Sets the IP address of selected converter.
Specifications
Conversion
LAN <-> RS422/485
LAN Interface
RJ-45 connector 10BASE-T/100BASE-TX, Ethernet IEEE802.3
LAN Protocol
ARP, UDP/IP, TCP/IP, ICMP, SNMP, Telnet, DHCP, BOOTP, HTTP, AutoIP
Serial Interface
RS-422/485, 5 pole terminal block (Press-to-screw pitch type), Fitness wire AWG24-14
Insulation
Insulation between RS-422/485 and LAN, withstands AC 2000V
Serial signal
SD, RD or SD/RD
Synchronous Method
Asynchronous
Baud Rate (bps)
300/600/1200/2400/4800/9600/19200/38400/57600/115200/230400/
460800*1/921600*1
Data Frame Structure
Data (7 or 8) + Parity (Even, Odd, None) + Stop (1 or 2)
RS-485 state watch
Able to monitor non-communication status on RS-485*2
RS-485 auto driver
Able to make the RS-485 driver active only when sending*3
Multi-drop connection
Max. 128 sets
Management
Initial setting
Web server, Telnet login
Sample software
Projects for Microsoft Visual C++ 6.0
LED display
LAN connection, RS-485 signal status
Power Supply*4
AC85-264V, 50/60Hz
Power Consumption
2.7W (When 240V)
Temperature
Operating: -20 to 60 degree Celsius
Storage: -25 to 75 degree Celsius
Humidity
10 to 95% RH (no condensation)
External Dimension (mm)
114(W) x 100(D) x 22 (H)mm
Weight (g)
Approx. 280g
Accessories
Utility CD-ROM, Instruction manual, Warranty
*1
: To use at 460.8Kbps or 921.6Kbps, set the XPort as high performance mode. Please refer to the User's manual.
*2
: Half duplex of RS-485 requires to send data while there is not data from other devices. SI-65 detects a state of no data transmission of other devices for the timer period specified by the switch, and notifies CP3 of the XPort of the state.
*3
: Half duplex of RS-485 need to make the RS-485 driver active only sending data. The RS-485 driver IC will be instantly activated at the head of data, and automatically deactivated with the lapse of the timer period specified by the switch once the end of the data is reached.
*4
: 7.62mm pitch, 3 pole terminal block, M3 screw