LE-PC300F (PC Link Software)
Outline
| | |
| --- | --- |
| LE-PC300F is Windows® software which enables a PC to control LINE EYE protocol analyzers from remote in order to use measurement data of those analyzers on a PC. By reviewing a traditional model LE-PC300-E, this model has been newly released including many improvements. It is compatible with the following analyzers: LE-7200-E, LE-3200-E, LE-2200-E and LE-1200-E. | |
Features
Enables simultaneous control of multiple analyzers from a PC
LE-PC300F supports serial connection via COM port and LAN connection via LINEEYE SI-60 converter, thus enabling remote measurement by multiple analyzers connected at the same time. It also allows you to browse measurement data saved in memory cards and convert data.

| | |
| --- | --- |
| *1 | AUX cable (LE2-8V) that comes with the analyzer. |
| *2 | Serial-USB converter (LE-US232B). To be used if the PC has no COM port or if the performance of COM port is so poor as top cause data receiving errors. Not required when connecting to the OCM port directly. |
| *3 | PC must be provided with interface for PC or CF card. |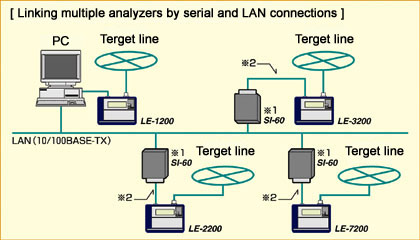 | | |
| --- | --- |
| *1 | SI-60 is a LAN-serial converter supported by LE-PC300F. A target analyzer is identified by specifying IP address of SI-60 on the remote setting window of LE-PC300F. |
| *2 | Optional AUX cable for DSUB 25-pin (LE2-8C). Set the DTE/DCE switch of SI-60 to DTE. |
Key emulation
The key emulation function reproduces the display and operation of analyzers on your PC. It allows you to perform remote control as if you operated your analyzer from a PC.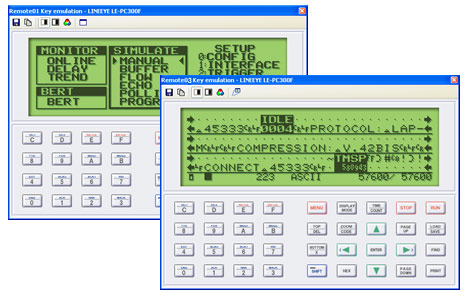 Remote monitor
The remote monitor function allows to capture log data from analyzer operating and displays the data on the PC's screen recording it on its hard disk. The fixed buffer and ring buffer mode are available. The former stops recording when the specified data size is reached, and the latter records data endlessly within the limit of the specified size.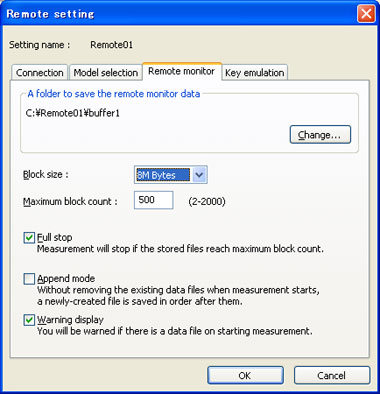 Displays on the PC screen in various ways.
This function allows you to switch the display mode: raw data display, protocol translation display, and logic analyzer waveform display.
Raw data display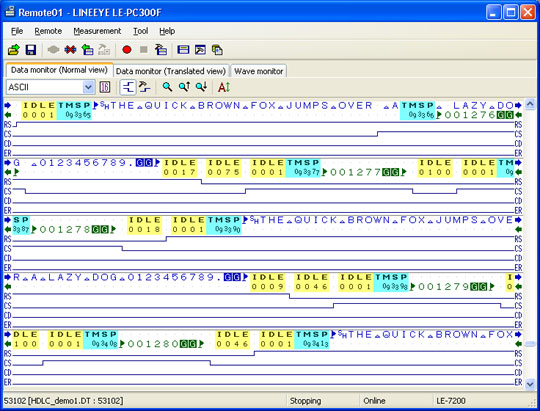 HDLC translation display mode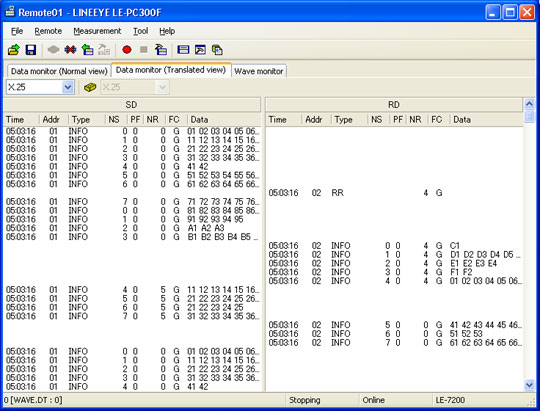 Logic anlayzer display mode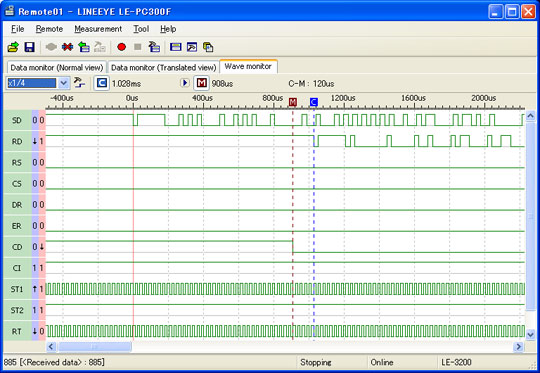 Converts the stored data to a text or CSV format all together
This function allows you to convert into a text or CSV format the data stored by the remote monitor function or stored in a memory card by an analyzer all together.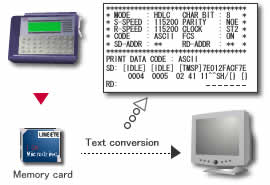 Converts data stored on a memory card to the text/CSV format.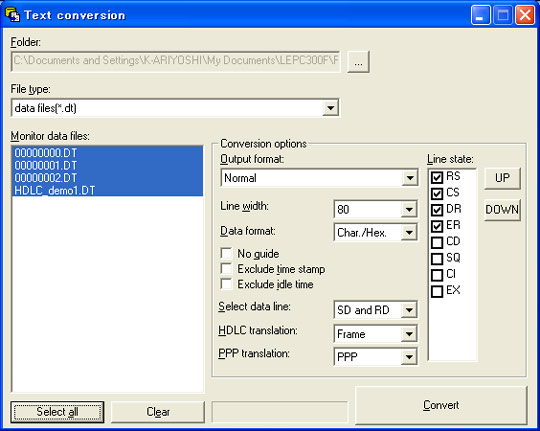 Changes the system language automatically (Japanese/English)
The system language alternates automatically between English and Japanese according to that of OS. This facilitates introduction of the software to development bases outside Japan.
English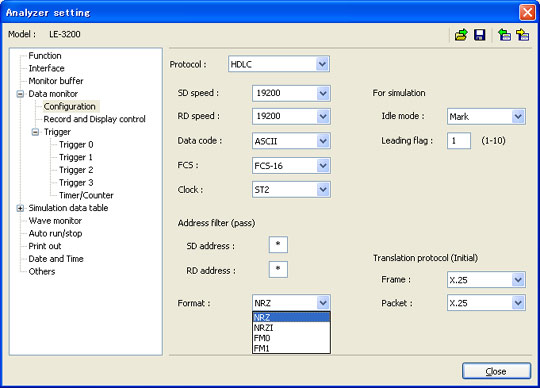 Japanese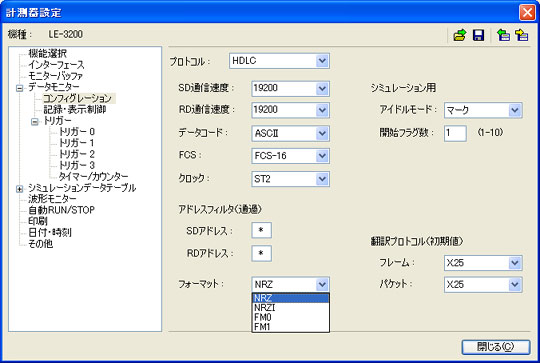 Specifications
Applicable analyzers
LE-7200-Eh LE-3200-E, LE-2200-E, LE-1200-E
Analyzer connection
Serial or LAN connections (Supports the LAN-serial converters SI-60 and FA-11)
NO. of analyzers to be connected
Multiple analyzers can be connected and controlled simultaneously. (No. of connectable analyzers depends on the performance of PC.)
Key emulation function
Presents the analyzer's display on the PC screen to anable control in a manner as if operating the analyzer.
Measurement condition setting
Measurement conditions (communications parameters, trigger and simulation data) can be input and edited on the dedicated window on the PC screen.
Remote monitor function
Starts/stops measurement with a analyzer, displays the measurement data on the PC screen, and records data continuously.
Recording mode
Fixed buffer mode (Records data up to the specified size) or ring buffer mode (Records data endlessly while leaving the latest data of the specified size) can be selected.
Recoding capacity
Max. 16 GB. Can be specified up to 2,000 files in the unit of 1/2/4/8 MB data file.
Display modes
Selectable among raw data, protocol translation and logic analyzer waveform.
Raw data
Displays communications data accompanied by idle time, time stamp, and line status.Character code (10 kinds) and character size (small/ medium /large) can be changed.
Protocol translation
Translates and displays SDLC, X.25 and LAPD protocols. (Target protocols planned to be increased.)
Logic analyzer waveform
Enlarges and reduces waveform, measures time between cursors, and rearranges signals.
Display area
Display window size can be changed.
Character codes
ASCII, EBCDIC, JIS7, JIS8, Baudot, Transcode, IPARS, EBCD, EBCDIK, HEX (in hexadecimal including error codes)
Search function
Finds and displays the data that matches the search key.
Search key
Specified data string of max. 8 characters (don't care and bit mask can also be specified), idle time beyond a specified duration, specific time stamp (don't care can also be specified), error (parity, framing, BCC, break/abort, short frame: individual error type can be specified) external trigger matching data
Text-CSV conversion function
Specified number of recorded files can be converted to text or CSV format all together.
Bitmap conversioh function
Analyzer's display shown by any emulation can be saved to bitmap files.
System requirements
PC
PC / AT compatible CPU: Pentium3 1GHz or fasterRAM: 256 MB or more (recommended)HDD: 5 MB + free bytes on the measurement data area
OS
Windows® 98/98SE/ME/2000/XP
Composition
CD (software) x 1, instruction manual x 1