OP-SB7F CAN Communications Expansion Kit

Includes expansion board and firmware for CAN communications widely used in automotive and factory automation fields.
Outline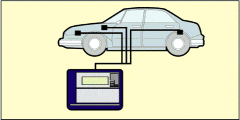 OP-SB7B is the expansion kit which makes it possible to monitor and simulate CAN. Its measurement port equips two channels. And you can switch ISO11898 (High Speed) and ISO11519-2 (Low Speed) following each port.
Operating Instructions

After inserting the expansion board into the analyzer, connect to the CAN BUS using the included monitor cable. For ISO11891, the terminator can be set by use of the jumper pin of the expansion board. You can select ISO11891 or ISO11519-2 from your analyzer.
Monitoring
Supports the standard format (11bit ID) and the expansion format (29bit ID). You can customize bit timing, and measure based on the actual CAN BUS state. Also, since measurement data is recorded with time stamp in 1ms unit at the same time, error timing can be easily detected. Moreover, you can efficiently analyze using the ID filter.
| | |
| --- | --- |
| | <ID Filter Setup Screen> |
| <Bit Timing Customize Screen> | <Measuring Result Display Screen> |
Trigger
<Trigger Setup Screen>

The trigger function enables you to use some condition and measurement operation of after the condition is specified, such as receiving specific data frame and remote frame etc., up to four pairs as the trigger.
Simulation
The simulation function makes it possible to transmit the data frame and remote frame of the standard and expansion format by one-touch press. Also, it can transmit changing data at the appointed time in order. Those functions are very useful for development of CAN BUS and DeviceNet equipment.
| | |
| --- | --- |
| | < Transmission Table Screen for Simulation (1) > |
| < Transmission Table Screen for Simulation (2) > | < Transmission Table Screen for Simulation (3) > |
Specification
| | |
| --- | --- |
| Interface | Supports ISO 11898 / ISO 11519-2 DSUB 9-pin connector |
| CAN Transceiver | TJA1050 / 1054 or equivalent |
| No. of measurement Channel | 2 channels (For monitor) |
| Protocol | CAN Device Net |
| Baud Rate (bps) | Max.1Mbps (*1) |
| Function | Monitor / Simulation |
| Time Stamp Measurement | Min. 1m sec |
| Composition | Dedicated expansion board, Firmware CD, Monitor cable |
(*1) Restricted by analyzer performance.