SI-60X is an interface converter that converts 2 serial ports of RS-232C devices to Ethernet LAN at 10Base-T/100Base-TX. The built-in Lantronix WiPort® NR on the LAN interface converts RS-232C data into LAN protocol (TCP/IP). The device supports 35mm DIN rail and the wide range of operating temperature. The small housing ensures ease of use for FA applications, public facility and medical institution as a communication device server.
SI-60X
:
Japanese model (

100V Input AC adapter

)
SI-60X-E
:

World wide model

(

Wide Input AC adapter

)
Features
[ Accessories ]
AC Adapter : 1
Utility CD-ROM : 1
Instruction Manual : 1
Warranty : 1
Convert 2 ports of RS-232C serial devices to LAN.
Support serial data max. at 921.6Kbps.
Connects 10Base-T/100Base-TX by auto-detection.
Supports multi protocols such as TCP/IP, UDP/IP, ARP, etc.
Equip with an initial switch for initializing the configuration.
Equip with a COM-port emulation software.
Able to use the general RS-232C cable widely used for PC.
Solid, card-case sized, and metal enclosure.
Optional DIN rail mounting plate and L bracket are available as mounting method.
Low power consumption. RoHS compatible product.
Can use in the workplace environments between -10 to 50 degree Celsius.
2 kinds of power input (DC jack and header connector)
Equip with a sample software for installing several units.
Lead-free. Environment-friendly product.
Block Chart
Signal assignment of RS-232C connector*1

| Pin*2 | Name | I/O Direction*3 | Description |
| --- | --- | --- | --- |
| 2 | RD | In | Reception Data |
| 3 | SD | Out | Transmission Data |
| 4 | ER(DTR) | Out | Data terminal ready |
| 5 | GND | - | Signal Grand |
| 6 | DR(DSR) | In | Data set ready |
| 7 | RS(RTS) | Out | Transmission Request |
| 8 | CS(CTS) | In | Transmission Permit |

*1

: Same in both two ports.

*2

: Signals not indicated above are not used.

*3

: "Out" means a direction to output signals from the converter.

"In" means a direction to input signals to the converter.
Connect two RS-232C devices on LAN

Able to connect two RS-232C devices on LAN.
Low cost, compact, low power consumption compared to SI-60F/SI-60.
| | 2 sets of SI-60F | SI-60X |
| --- | --- | --- |
| Save 40% cost | 2 x SI-60F + 2 LAN cables | SI-60X+ LAN cable |
| Save 50% power Consumption | 3VA x 2 = 6VA | 3VA |
| Save 40% space | 8cm x 9cm x 2sets = approx. 108cm2 | 8cm x 8cm = approx. 64cm2 |
Space-saving
<DIN Rail Installation
Example>

< Optional "Metal
Fitting for Wall" >

Compact body saves the space. Use M3 screws hole in the bottom face to mount.
Use optional DIN rail mounting plate for installing 35mm DIN rail.
Wide input DC power
Supply power from attached AC adapter or optional DC plug cable, supporting DC5V-30V.
A Useful Tool for Multiple Operation
<Configuration tool (SILANIOinit)>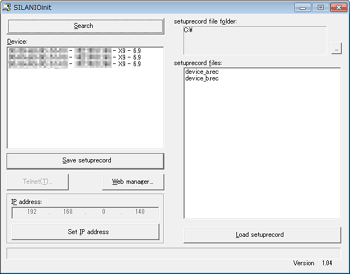 "SILANIOinit" is a configuration tool for LINEEYE products embedded WiPort-NR. It is useful and saves time to rewrite the WiPort-NR configuration file (Setup Record) .
[Functions]
Searches the device on the Network. Displays the MAC address.
Reads and saves the configuration (set-up record) of converter.
Writes to the set-up record of selected converter.
Sets the IP address of selected converter.
Specifications
Conversion
LAN ⇔ RS-232C x 2ports
LAN Interface
RJ-45 connector 10BASE-T/100BASE-TX, Ethernet IEEE802.3
LAN Protocol*1
ARP, UDP/IP, TCP/IP, ICMP, TFTP, Telnet, DHCP, BOOTP, HTTP, AutoIP
Serial Interface
RS-232C x 2ports,
Dsub9 Pin Male (#4-40UNC inch screw)
Serial signal*2
SD, RD, RTS, CTS, DSR, DTR DTE fixed
Synchronous Method
Asynchronous
Baud Rate (bps)
300/600/1200/2400/4800/9600/19200/38400/57600/115200/230400/
460800/921600
Data Frame Structure
Data (7 or 8) + Parity (Even, Odd, None) + Stop (1 or 2)
Flow Control
Xon/off, RTS/CTS*3
Management
Initial setting
DeviceInstaller, Web manager, Telnet login, Serial port log-in*4
Sample software
Transmit and receive program (with source code) for Windows® Vista/7/8
Switch
Initial switch (Initializing the IP address and communication condition)
LED display
Power on/off, LAN connection, RS-232C line status
Power Supply
DC-IN: DC5 to 30V / 250 to 45mA
Supply power from attached AC adapter, DC jack (DC-IN1) or Connector (DC-IN2)
Power Consumption
2.8VA (when using AC adapter (AC100V)
Temperature
Operating: -10 to 50 degree Celsius.
Storage: -20 to 80 degree Celsius.
Humidity
10 to 95% RH (no condensation)
External Dimension (mm)
78(W) x 85(D) x 24(H)
Weight (g)
Approx. 220
Mounting method
Use M3 screw hole in the bottom face. Install to a DIN rail (using optional DIN mounting plate)
Use optional L bracket.
Accessories
AC adapter, Utility CD-ROM, Instruction manual, Warranty
*1
Support serial data communication of TCP/IP or UDP/IP.
*2
Same in both two ports.
*3
Cannot control/monitor RTS/CTS through LAN.
*4
Able to use only one RS-232C port.
Option
Description
Name
Model
Remarks
Magnet
SI-MG70
Two magnets to attach the SI/LANIO-series on the wall. Screw two magnets on the bottom of device.
L Bracket
SI-ML1

Dedicated to SI-60X

RS-232C cable
SI-RS259
DSUB9pin Female - DSUB25pin Male
(Straight connection 1.5m).
A straight cable for RS-232C.
AC adapter
VFN-650B

Input: AC100V, 50/60Hz
Output: DC6V, 500mA
Plug: Center minus, 5.5mm (external), 2.1mm (internal)
Standard: PSE

*

AC adapter attached in the SI-60X.

AC adapter for SI-series
GF12-US0618

Input: AC100-240V, 50/60Hz
Output: DC6V, 1.8A
Plug: Center minus, 5.5mm (external), 2.1mm (internal)
Standard: PSE/UL/CUL/FCC/CE

*

Small, low cost AC adapter

Wide Input AC adapter
6A-181WP09
Input: AC100-240V, 50/60Hz
Output: DC9V, 2A
Plug: Center plus, 5.5mm (external), 2.1mm (internal)
Standard: PSE/UL/CUL/FCC/GS/CE/CCC
* Same as AC adapter packaged with SI-60X-E
Power plug cable
SIH-2PG
DC plug 2.1mm (5.5mm outside)-Y terminal (1.8m)
For the external DC power supply connection to the DC-IN terminal of SI-60X.
The cable clamp attachment.
Power branch cable
LAH-2XH
Use for supplying power to the second unit of SI-60X.
Cable with XH connecters in both side (0.2m). AWG22.
Power cable
LAH-15XH
Cable with XH connectors in both side (1.5m). AWG22.
Use for supplying power from DC-IN2.