SI-60F is an interface converter to connect factory automation equipment and analyzers, which only have the RS-232C serial communication port, to LAN. The built-in Lantronix Xport® on the LAN interface converts RS-232C data into LAN protocol (TCP/IP). It is the environment-friendly design, such as low power consumption from DC5V and compact body (resource saving).
SI-60F
:
Japanese model (

100V Input AC adapter

)
SI-60F-E
:

World wide model

(

Wide Input AC adapter

)
Features
[ Accessories ]
AC Adapter : 1
Utility CD-ROM : 1
Instruction Manual : 1
Warranty : 1
[ CASE ]
Connects 10Base-T/100Base-TX by auto-detection.
Supports multi protocols such as TCP/IP, UDP/IP, ARP, etc.
Displays the RS-232C lines by LEDs, which are useful to check communications at the first stage.
Can use in the workplace environments between -10 to 50 degree Celsius.
Solid, card-case sized, and metal enclosure.
Supports installation of 35mm DIN rail.
Environment-friendly design. Use lead-free solder. Non-use of chromium screw etc.
Block Chart
| Pin | Name | I/O Direction*1 | Description |
| --- | --- | --- | --- |
| 1 | - | - | non-connected |
| 2 | RD | In | Reception Data |
| 3 | SD | Out | Transmission Data |
| 4 | ER | In | Data terminal ready |
| 5 | GND | - | Signal Grand |
| 6 | DR | In | Data set ready |
| 7 | RS | Out | Transmission Request |
| 8 | CS | In | Transmission Permit |
| 9 | - | - | non-connected |

*1

: "Out" means a direction to output signals from the converter.

"In" means a direction to input signals to the converter.
Example of SI-60F Connection

Attached software (COM port Redirector™) controls the RS-232C device as if it is connecting directly to the serial port (COM1 to n) of PC. This reduces the modification of communication programs. Also, you can transmit/receive RS-232C serial data directly using the TCP/IP socket communication method.
Locate RS-232C devices to further place using LAN cable

2sets of SI-60F makes it possible to locate the RS-232C devices in the far place using LAN cable. One set of SI-60F has to be in Server mode (or Server and Client mode) and the other one has to be in Client mode (or Server and Client) mode.
Connection with LINEEYE analyzer

By connecting the LINEEYE analyzers to LAN (Ethernet) using SI-60F, you can analyze the data on a PC in the office far from the workplace in real time, continuously measuring the data between the device A and B.
Space-saving
<DIN Rail Installation
Example>

< Optional "Metal
Fitting for Wall" >

Able to install the device on the 35mm DIN rail using Optional DIN plate (SI-DIN70), and to install it on the wall using the optional wall bracket (SI-WM1).
2 kinds of power input
Able to supply the power from attached AC adapter or external power supply (DC5 to 25V).
A Useful Tool for Multiple Operation
<Configuration tool (SILANIOinit)>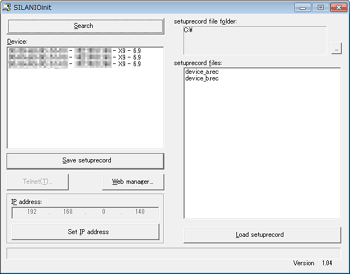 "SILANIOinit" is a configuration tool for LINEEYE products embedded WiPort-NR. It is useful and saves time to rewrite the WiPort-NR configuration file (Setup Record) .
[Functions]
Searches the device on the Network. Displays the MAC address.
Reads and saves the configuration (set-up record) of converter.
Writes to the set-up record of selected converter.
Sets the IP address of selected converter.
Specifications
Conversion
LAN <-> RS-232C
LAN Interface
RJ-45 connector 10BASE-T/100BASE-TX, Ethernet IEEE802.3
LAN Protocol
ARP, UDP/IP, TCP/IP, ICMP, SNMP, Telnet, DHCP, BOOTP, HTTP, AutoIP
Serial Interface
RS-232C, Dsub9 Pin Male (inch screw)
Serial signal
SD, RD, RTS, CTS, DSR/DTR *1, DTE fixed
Synchronous Method
Asynchronous
Baud Rate (bps)
300/600/1200/2400/4800/9600/19200/38400/57600/115200/230400/
460800*2/921600*2
Data Frame Structure
Data (7 or 8) + Parity (Even, Odd, None) + Stop (1 or 2)
Flow Control
Xon/off, RTS/CTS
Management
Initial setting
Web server, Telnet login, Serial login, SNMP
Sample software
Transmit and receive program (with source code) for Windows®
Firmware
Able to write on the FTP or internal flash memory via serial communication.
LED display
LAN connection, RS-232C line status
Power Supply*3
AC adapter: AC100V+/- 15%, 50/60Hz
DC-IN: DC5 to 25V / 250 to 50mA
Power Consumption*4
2.8VA
Temperature
Operating: -10 to 50 degree Celsius.
Storage: -20 to 80 degree Celsius.
Humidity
10 to 95% RH (no condensation)
External Dimension (mm)
58(W) x 88(D) x 24(H)
Weight (g)
Approx. 170
Accessories
AC adapter (VFN-650B), Utility CD-ROM, Instruction manual, Warranty
*1
DSR and DTR are connected inside the unit, which logic state can be checked with CP1 of XPort.
*2
To use at 460.8Kbps or 921.6Kbps, set the XPort as high performance mode. Please refer to the User's manual
*4
When using the attached AC adapter (AC100V).
Option
Description
Name
Model
Remarks
DIN Plate
SI-DIN70
Uses for installing 35mm DIN rail.
Magnet
SI-MG70
Two magnets to attach the SI/LANIO-series on the wall. Screw two magnets on the bottom of device.
Wall bracket
SI-WM1

Metal fitting to attach the device on the wall.

Screw the meal fitting board on the bottom of device.
AUX cable
LE2-8V
Uses for connecting SI-60F to
the AUX port on our analyzers.
AC adapter
VFN-650B

Input: AC100V, 50/60Hz
Output: DC6V, 500mA
Plug: Center minus, 5.5mm (external), 2.1mm (internal)
Standard: PSE

*

AC adapter attached in the SI-60F.

AC adapter for SI-series
GF12-US0618

Input: AC100-240V, 50/60Hz
Output: DC6V, 1.8A
Plug: Center minus, 5.5mm (external), 2.1mm (internal)
Standard: PSE/UL/CUL/FCC/CE

*

Small, low cost AC adapter

Wide Input AC adapter
6A-181WP09
Input: AC100-240V, 50/60Hz
Output: DC9V, 2A
Plug: Center plus, 5.5mm (external), 2.1mm (internal)
Standard: PSE/UL/CUL/FCC/GS/CE/CCC
* Same as AC adapter packaged with SI-60F-E