[ Composition ]
Converter: 1
USB cable: 1
Utility CD: 1
Instruction Manual: 1 ( in Japanese only)
Warranty: 1
SI-55USB is an USB converter, which converts USB of PC into RS-232C serial port of signal-isolated type. Virtual COM port driver ease the usage of test software and shorten the time of installing the new system. Features of this product are max 1Mbps baud rate and 3000V high-voltage resistant isolation by photo coupler and isolated power unit.
Supporting wide range of temperature, metal enclosure, and noise resistant make it possible to use in the factories, inspection lab and so on.
<Image of using SI-55USB>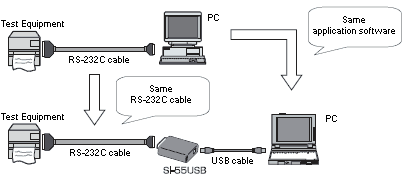 Feature
3000 High-voltage Resistant Isolation type

<Block diagram>

USB Bus power. No need to have an external power supply.
Virtual COM port driver supporting Windows® 7 is attached.

<Same Pin Assignment with PC serial port>

Able to use in the severe conditions of -10 to 50 degree Celsius.
Small sized, metal enclosure, noise resistance.
Able to mount on 35mm DIN rail.
Lowe power consumption.
Equip RS-232C convergent IC supports 1Mbps.
Specifications
RS-232C connector (DSUB9pin male)
USB connector
Power LED
Data status LED
Pin Assignment
| Terminal # | Name | I/O*1 | Explanation |
| --- | --- | --- | --- |
| 1 | DCD | In | Data Carrier Detect |
| 2 | RXD | In | Received Data |
| 3 | TXD | Out | Transmitted Data |
| 4 | DTR | Out | Data Terminal Ready |
| 5 | GND | - | Signal Ground |
| 6 | DSR | In | Data Set Ready |
| 7 | RTS | Out | Request To Send |
| 8 | CTS | In | Clear To Send |
| 9 | RI | In | Ring Indicator |
*1
: "Out": Output signal from converter. "In": Input signal toward converter. "I/O": Both ways.
Mounting
< Mounting on the DIN rail >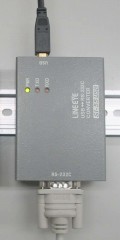 Screw on the bottom using the M3 screw.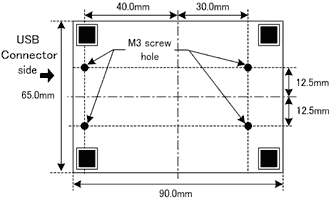 Specifications
Conversion
USB⇔RS-232C
USB Interface
USB1.1/2.0 full speed transmission connector B
LED
Transmission: TXD, Reception: RXD, Power: PWR
Serial Interface
RS-232C DSUB9pin male (inch screw)
Serial Signal
TXD, RXD, RTS, CTS, DSR, DTR, DCD, RI
Asynch type
Asynch
Baud Rate
300bps to 1Mbps*1
Data Frame
Data bits [7or8] + Parity [Even/Odd/none] + Stop bits [1/2]
Flow Control
Xon/off, RTS/CTS (supported by COM port emulator)
Mounting Method
Using M3 screw hole in the bottom, installation to a DIN rail (SI-DIN70 is required.)
Signal Isolation Protection
3000Vdc
System requirements
(USB equipment)
PC: PC/AT compatible with USB ports (DOS/V PC)
OS: Windows® 7/8/8.1/10*2
Power
USB Bus power, DC5V±10%, Max. 270mA
Power Consumption
1.4W or less
Temperature
In operation: -10 to 55°C, In storage: -20 to 75°C
Humidity
In operation: 10 to 90%RH,
In storage: 10 to 90%RH (no condensation)
Dimension
65(W) x 95(D) x 22(H) mm
Weight
Approx. 200g
Composition
USB cable (1.8m), Utility CD, Instruction manual (in Japanese only), Warranty.
*1
: Speed is established in application software
*2
: Supports 32bit/64bit of Windows 7/8/8.1/10