SI-485MB is a Modbus gateway to convert bi-directionally Modbus RTU/ASCII of serial interface to Modebus TCP of Ethernet. The firmware for gateway process supports Modbus TCP master mode and Modbu TCP slave mode and supports all the current ModbusRTU/ASCII register and command conversion. The robust metal body, broad range of temperature, wide input voltage range, and the support for installation by options such as 35mm DIN rail and wall bracket allow you to use it for factory automation without worry.
Features
[ Connector Side ]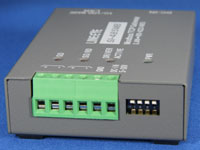 Connects 10Base-T/100Base-TX by auto-detection.
Supports Modbus TCP master mode and Modbus TCP slave mode
When master mode, you can register up to 8 IP addresses of Modbus TCP slave for the range of Modbus ID with which it connects.
When slave mode, it connects up to 10 Modebus TCP master devices simultaneously to share the control of the access.
Automatic register-scanning function of the slave mode makes the response for request by the master more quick.
Can be used in the temperature between -25 and 75 degree Celsius.
Low power consumption. It supports DC5 to 30V wide input.
Supports installation by the wall bracket, the magnet, and installation to 35mm DIN rail.
Connection
[ Modbus master mode ]
You can use Modbus RTU/ASCII master device as Modbus TCP master by using SI—485MB in master mode. Once the SI-485MB receives a Modbus RTU-ASCII frame (query message) from the master device of the RS-422/485, it connects to the IP address indicated in the address field of the frame or to the specified IP address and then it transmits the data in Modbus TCP frame format.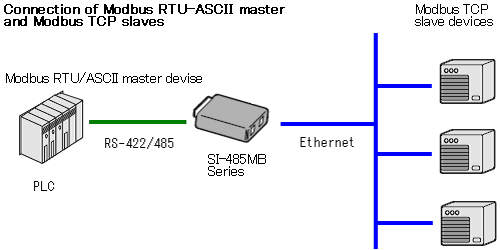 [ Modbus Slave mode ]
You can use Modbus RTU/ASCII slave devices as Modbus TCP slaves by using SI-485MB in slave mode. Once the SI-485MB receives a Modbus TCP frame (query message) from the Modbus TCP master device, it transmits the data to the RS-422/485 side in Modbus RTU/ASCII frame format. SI-485MB allows up to 10 Modbus TCP master devices, and control the shared access.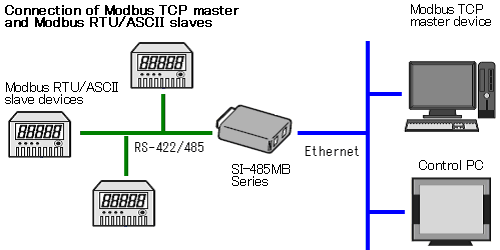 Specifications
Model
SI-485MB
Conversion
Modbus TCP <-> Modbus RTU/ASCII 
Serial
Interface
RS-422/485
6 pole terminal block (Press-to-screw pitch type), Fitness wire AWG24-14/2.5mm2
Termination resistor can be set.
Synchronous Method
Asynchronous
Baud Rate (bps)
300/600/1200/2400/4800/9600/19200/38400/57600/115200
Data Frame Structure
Data(7 or 8) + Parity(Even, Odd or None) + Stop(1 or 2)
Protocol
Modbus RTU, Modbus ASCII
LED display
SD, SD/RD, DRIVER ACTIVE
Surge protection
15KV ESD
LAN
Interface
Ethernet IEEE802.3, RJ-45 connector, 10BASE-T/100BASE-TX
Protocol
Modbus TCP
LED display
10BASE-T, 100BASE-TX, Activity, Link, Full/Half duplex
Transformer insulation
1500V
Configuration
By Web Manager or by Telnet
Power Supply
AC adapter or
Terminal block: DC5 to 30V from 6th pin
Consumption
1.5W
Temperature*1
Operating: -25 to 75 degree Celsius
Storage: -25 to 85 degree Celsius
Humidity
5 to 95% RH (no condensation)
Size
65 x 90 x 24 mm (W x D x H), About 200g
Accessories
AC adapter, Utility CD-ROM, Instruction manual*2, Warranty
*1
: Temperature specification of the attched AC adapter (GF12-US0618) is 0 to 40 degree Celsius.
Option
Description
Name
Model
Remarks
DIN Plate
SI-DIN70
A plate for installing 35mm DIN rail.
Magnet
SI-MG70
Two magnets to attach the SI/LANIO-series on the wall. Screw two magnets on the bottom of device.
Wall bracket
SI-WM1

Metal fitting to attach the device on the wall.

Screw the meal fitting board on the bottom of device.
AC adapter for SI-series
GF12-US0618

Input: AC100-240V, 50/60Hz
Output: DC6V, 1.8A
Plug: Center minus, 5.5mm (external), 2.1mm (internal)
Standard: PSE/UL/CUL/FCC/CE

*

Small, low cost AC adapter

*

AC adapter attached with SI-485MB.

Wide Input AC adapter
6A-181WP09
Input: AC100-240V, 50/60Hz
Output: DC9V, 2A
Plug: Center plus, 5.5mm (external), 2.1mm (internal)
Standard: PSE/UL/CUL/FCC/GS/CE/CCC