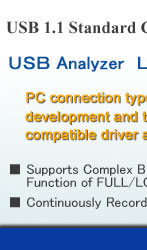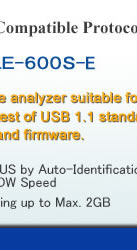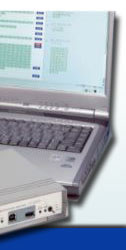 LE-600S-E is a USB analyzer that is used with parallel-connection to PC Monitored USB data recorded and displayed continuously and real-time on PC.

Specifications
Full/Low Speed Modes Automatic Identification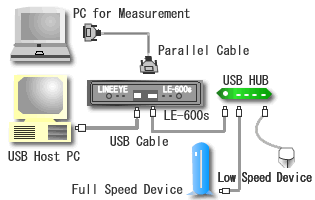 Since speed of the measured device is switched by automatic identification, there is no need to set speed. Also, even when both a full speed device and a low speed device are connected to the side of down port on USB hub, mixed packets of both devices can be measured by performing measurement at the side of up port on USB hub.
Continuously Record up to a Max.2Gbyte
Monitored USB data is recorded up to 2Gbyte into the PC hard disk drive. The monitored data is scrolled display during recording data. It is also possible to analyze communication troubles under unspecific conditions.
Intelligible Display
Packets are displayed intelligibly per transaction during measurement. As standard device request and descriptor are translated and displayed clearly, it will be able to understand difficult USB protocol easily.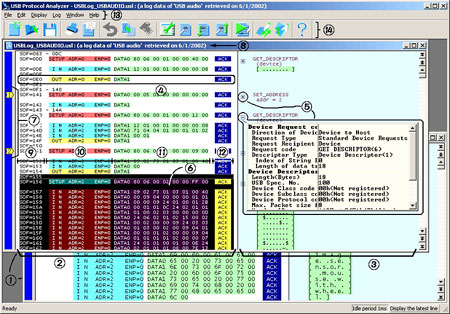 This displays plural log windows in the application window.
This displays the contents of packets in the left half of each log window.
This displays the contents of ASCII character strings of device request or data packets in the right half of each log window.
This displays plural packets as a transaction in one line.
This opens the "Display detailed contents of device request" window. Put the mouse cursor on this window to zoom.
(Note: This displays only the details of the "standard device request". The details of each USB device class are not displayed.)
This displays the transaction in reverse video by mouse-operation.
(Select successive or non-successive transaction by the combined use of Shift/Ctrl keys.)
This is capable of marking "1" to "99" on any transaction. It enables the "Jump" to the marked transaction.
This displays any added "Comments" and the log data file names on the title bar.
This column displays SOF(Start of Frame).
(When using a low speed device which doesn't involve a SOF packet, this column has no display.)
This column displays token packets.
This column displays data packets.
This column displays handshake packets.
This is a menu bar.
This is a tool bar.
This is a status bar displaying the menus and the explanation of the tool bar.
Upgraded Off-Line Analysis Capability
It is easy to find the data which you are interested in from enormous recorded measurement data by filtering functions and Find functions. It makes you improve efficiency development to use modification to the display color of each packet and mark/jump function
Practical Use of Measurement Data
It is possible to print out the selected area of the log data. If you send monitored data to a remote place, only monitored data can be saved in the text file. With analysis software, it is possible to analyze the monitored data in detail from a PC at the remote place.
Components
USB Analyzer(LE-600S-E) : 1
AC adapter (in AC100~240V / out DC9V) : 1
Parallel cable (Dsub 25-pin (male) - Dsub 25-pin (male) with connector 1.5m) : 1
USB cable (with A-B plug 1.8m) : 1
CD-ROM (LE-600S-E software) : 1
Instruction manual (This booklet) : 1
Hardware Requirement
OS

Windows® 98/ME/2000/XP
PC
PC/AT compatible with parallel port
Notice: Operation through an expansion card through the parallel port(for PCI bus slot, for PC card slot, and replicator for USB) is not guaranteed.
CPU
Pentium 500 MHz is recommended
Parallel port
ECP mode (EPP + ECP mode)
IRQ and DMA must be available in ECP mode
1.2 MB/S or more transfer must be available
Notice: If the above-mentioned condition isn't fulfilled, high-volume and/or high-rare USB bus data transferred at full speed may be logged incorrectly.
[Available up to 128KB (Memory capacity for LE-600S-E) for monitoring]
Memory
256 MBytes is recommended
Hard disk
3 MBytes free space and enough free space to log data are required.
Display
Resolution 1024 x 768 or more is recommended.

Specifications